South Jordan Wedding | Alison & Evan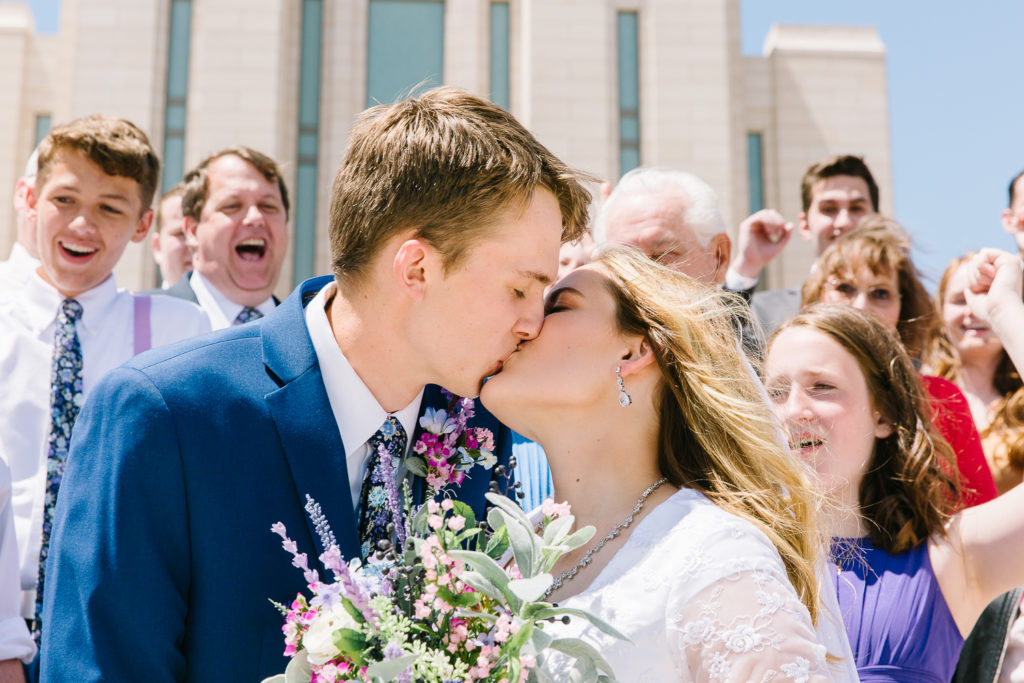 If you're reading this, you may be tired of me talking about how awesome and wonderful Alison and Evan have been to work with. I am going to keep telling you all about how cute and in love they are, and how beautiful their South Jordan wedding was. They finally got married on May 7th, 2021 in the Oquirrh Mountain Utah Temple. I have a special place in my heart for this temple because this is where I got married myself. It is a beautiful temple. Are there really any LDS temples that are not beautiful? I love shooting weddings at this temple because it has a bunch of spots where you can have great lighting. It makes for some beautiful photos.
In a lot of the temples, the cute temple workers will allow me to come in and talk to my brides before they walk out the temple doors to let them know what they should do. The dip and kiss is a classic. It is usually what I tell my brides to do as they walk out.
Temple Weddings since COVID
Before COVID, certain temples would be packed. Since COVID they are still allowing couples to get married, but they space it out so that only one couple is getting married in the temple at a time. It made it so nice and wonderful! We had the temple grounds basically to ourselves afterward.
We took a few photos with family and friends and then headed off to do some of just the couple around the temple. Afterward, they had a luncheon at Evan's parents home in South Jordan. The wedding reception was there as well. After the wedding luncheon there was about a one hour break before the reception started.
The weather didn't cooperate very well for their wedding reception, but it didn't stop me from being able to capture beautiful moments of this South Jordan wedding. The wind was insane for bits and pieces of it. But at least it didn't rain! They had cake at the end and it was a wonderful way for them to welcome friends and family. Alison and Evan were adorable as always. Alison is so chill and was just so happy. Evan too. The look on their faces is what keeps me doing what I'm doing. Seeing couples find each other. Knowing that they have their human. The one they have chosen to be with forever.
To see more weddings click here!